The CURE band, AKA - Dr. Laz & The CURE!, with our 4 -piece percussion section, rockin' the house at Skidmore College, last winter.
"CURE!" is a unique, grassroots community organization that strives to improve racial understanding & mutual cooperation in our multi-ethnic society.
Founded shortly after the Crown Heights, Brooklyn race riots of August 1991, "CURE!" has brought together thousands of people from different backgrounds for a variety of meaningful activities.
"CURE!" stands for:
Communication
Understanding
Respect
Education
Giggin' with famous Woodstocker & humanitarian Richie Havens
at a NYC Unity Concert. We also got to play with Shlomo Carlebach.
"Laz, Thanx for your inspiration...
We will always Increase the Peace within, this is
our calling... Stay well my friend. Shalom"
Richie H


Under the direction of Dr. Laz, with assistance from several dynamic youth leaders, including Rev. Paul Chandler of the Jackie Robinson Cultural Center, and Richard Green of the Crown Heights Youth Collective, "CURE!" has taken a leadership role in country's efforts to dispel negative stereotypes & replace misunderstandings with knowledge and trust. What started off as a "life saver" in NYC, has branched into a world wide effort.

We sponsor a wide range of exciting & beneficial programs:
Dialogues for Understanding


Joint Basketball & Sports Games


Multi-cultural Events such as our Kwanzaa/Chanukah Experience


Art Murals for Racial Harmony


Community Beautification Projects


Visiting Public Schools, Yeshivas & Community Groups


CURE Music/Dance Group!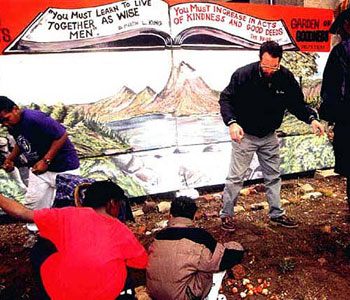 Working in our CURE "Peace Garden" which featured an art mural project,
vegetables, flowers, and trees. Folks from the African-American & Hassidic community took over an old, abandoned eye-sort of a lot and transformed it into something positive & nice to look at!


We've come a long ways, but there's still lots to be done. We need your help. Volunteer some time. Come and participate. Learn. Teach. Share your skills with our youth. Most importantly, get involved in your community! Like Bro. Richard Green always tells me: Each one reach one to teach one! To borrow the phone company's slogan; we're all connected.

Remember...
the CURE begins
with YOU!
"Never doubt that a small group of thoughtful, committed citizens can change the world. Indeed, it is the only thing that ever has."
Margaret Mead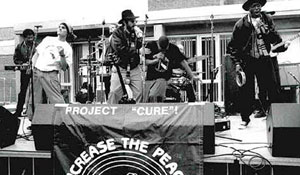 Dr. Laz & The CURE rockin' Kean College
"This is an amazing movie based on the true story of Dr. Laz, the Lubavicher Jew who, along with an African American preacher, set out to promote tolerance by joining young Jews and African Americans together to create a basketball team and a rap group. I find it incredible that in the midst of the chaos and rage in the area after the Crown Heights disasters of Gavin Cato and Yankel Rosenberg's deaths, they found the strength and inspiration to plant these wonderful seeds of compassion. Howie Mandel does a fabulous and believable job of portraying Dr.Laz and Mario van Peebles does equally well in bringing to life a character who is actually based on two real-life people combined. I highly recommend this film for both its entertainment and educational value."
Movie Review of "Crown Heights"
IMDB Movie Reviews

Howie & Mario on the movie set.
1. Project CURE! Video Highlight Film! Contains exciting footage from CURE's best moments, including; Donahue Show appearance; ESPN; USA Network; Blacks & Jews documentary; The Montel Williams Show; and more. A must for any person or organization interested in promoting racial harmony. Shows how a small, grassroots organization can truly make a difference. Only $24.95 includes S&H. Allow 4 - 6 weeks for delivery.

2. DR. LAZ & THE CURE! Music Highlights Video! Journey with the country's most exciting, multi-ethnic rap/dance group as they bring their positive message of hope & working together to high schools, colleges, and even the US Congress. DL & The CURE features "Boom Boom" Bernice, a Black female drummer; Dexter the Jamaican keyboardist; Zahava, female Hassidic keyboardist; Moshe the Hassidic guitarist; Rev. Paul Chandler, a Baptist minister, the co-lead vocalist with Dr. Laz. The group also has two hip-hop, freestyle dancers, Yudi, a young Hassid, and his partner TJ Moses, an African American young man. (Hey, if you watch the Rap & Reggae videos on the Homepage, you'll get a sense of what they can do.) As you can imagine, their music is exciting and well, stereotype breaking. They do it all. Country. Bluegrass. Blues. Hassidic. Rock 'N Roll. Rap. Middle-Eastern. African. Reggae. Even some doo-wop! Music Highlights Video is only $24.95 includes S&H.
Click Here To Order The Videos