UPCOMING SHOWS & EVENTS:
*March 28th: Bradenton, Fl.

*May 3rd: The Mangrove Tangle - production by individuals with special needs. The Quest Center, Hollywood, Fl.

*May 4th: Shabbaton. North Miami Beach

*May 8th - 10th: Recording new song & music video! (It's Time) Stay tuned y'all.

*June 6th: Dr. Laz & The Sensations!
Shul of Bal Harbour

*June: Upcoming Gigs & Events in Australia Mates! More info coming soon on the nitty-grittys for the Land Down Under!
University of Buffalo
Distinguished Alumni Event
The Dr. Sarkin Award for
"Excellence in Teaching"
Buffalo, NY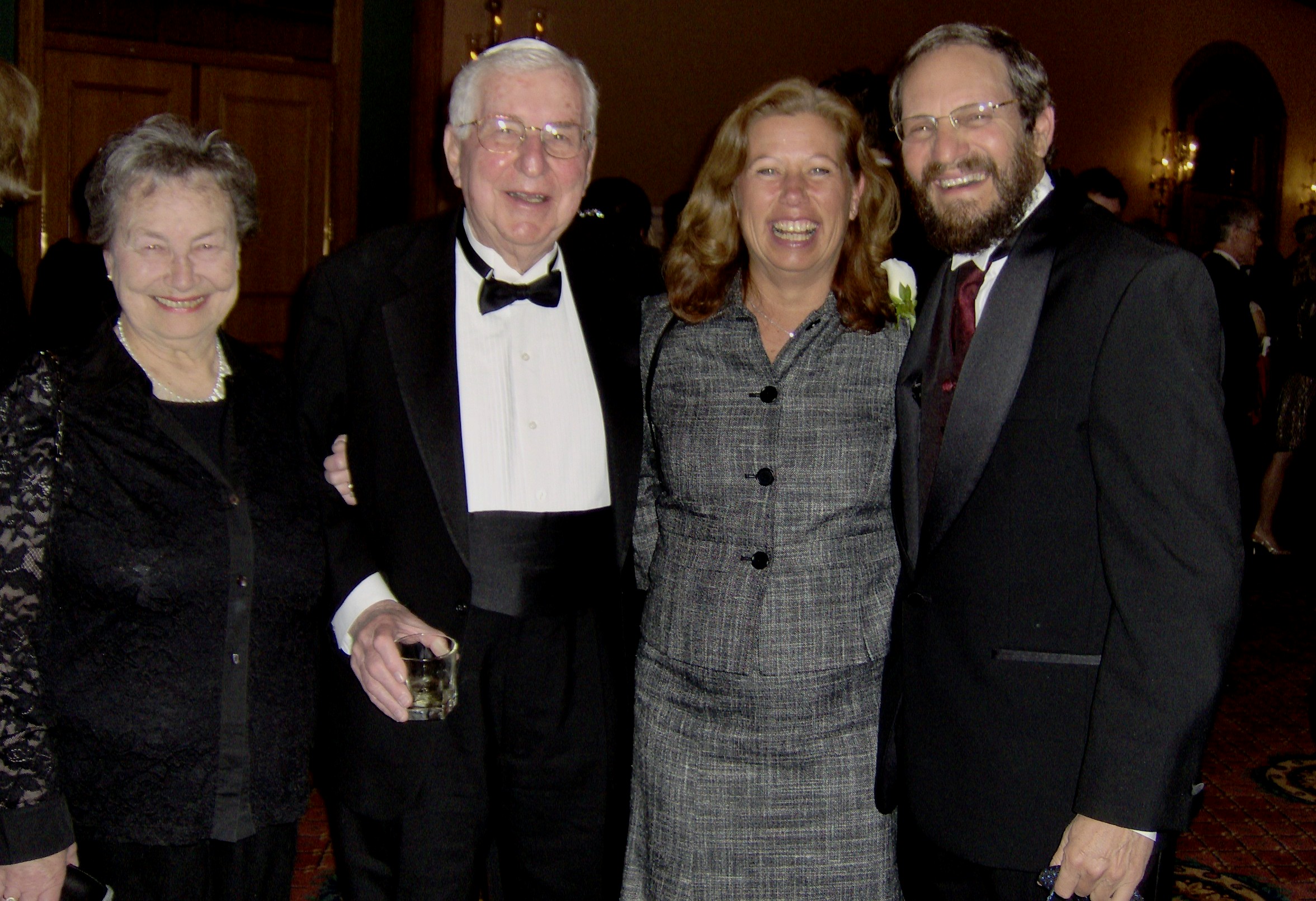 With my mom, dad & Mrs. Sarkin
at the UB Alumni award event. Ya gotta luv the tux!
Buffalo State College
Distinguished Alumni Award
"Professional Achievement &
Community Service"
Buffalo, NY

The Buffalo Review
"Dr. David Lazerson, a Buffalo native and special education teacher in the Broward County school system in South Florida, has been named a Distinguished Alumni Recipient this year from both University of Buffalo and Buffalo State College. It is truly an honor when this occurs at one college, let alone two in the very same year.

Dr. Laz, as he is affectionately known, will be receiving the prestigious Dr. Richard T. Sarkin Award for Excellence in Teaching at UB's alumni award event this coming April 20th in Buffalo. Dr. Laz received his Ph.D. in Research & Evaluation, with a minor in Urban Ed, from UB in 1986. On May 12th, at Buff State's (where he received his Master's degree in Learning & Behavioral Disorders) commencement ceremony, Dr. Laz will receive the Distinguished Alumni Award for Community Service & Contributions to Education. Dr. Laz will also address the graduates at their commencement ceremony.

He's being honored for his work in race relations – he formed Project CURE, a racial harmony group that began shortly after the race riots in Crown Heights, NY in the 90's. His new book, Sharing Turf, was used by Showtime to write the story and screenplay for the movie "Crown Heights," which features Howie Mandel (host of the popular TV show Deal Or No Deal) as Dr. Laz. The movie, recently released at Blockbuster, also used three of Laz's original songs. His music group, Dr. Laz & the CURE, plays throughout the world, bringing their important message of mutual respect, tolerance, and peace.
Dr. Laz is also being honored for his unique contributions to the field of special education. He currently runs the experiential music program for the Quest Center, a school within the Broward County public schools. He formed a very unique group, called the "Sing & Sign" Choir, made up of students with autism spectrum disorder, Downs-syndrome, cerebral palsy, medically fragile conditions, and other profound special needs. Since most of his 200 plus students are non-verbal, the students were taught American sign language, which they use to communicate during their performances. Students utilize adaptive switches so even the kids in wheelchairs are able to participate.
His choir performs for schools and senior centers throughout Florida, and was recently featured on national TV. He's written more than 10 grants in the past three years, including receiving the Mr. Holland Opus Foundation award. He's published extensively in newspapers and educational journals, including a recent study published in the England's prestigious Journal for Emotional & Behavioural Disabilities. Dr. Laz is currently conducting an important research study that involves utilizing experiential music and adaptive technology for students with profound special needs. Dr. Laz has also presented his research at many professional educational conferences in the past several years, including Council for Exceptional Children's annual conference and the Assistive Technology Association conferences. He also serves on the editorial review board for the new journal, Assistive Technology Outcomes & Benefits. Most exciting, perhaps, his "sing & sign" choir are under consideration for an appearance on the Oprah Show!
Having just returned from two very successful events in England, Dr. Laz is in high demand, traveling throughout the globe speaking, playing, and bringing inspiration to thousands.
Dr. David Lazerson is the son of Richard & Tilly Lazerson of Amherst, NY."


Rock 'N Roll Shabbaton!
TWISTED SISTER & DR. LAZ!
Event Poster! Click Here!

See CONTACT section of site for bookings.


LONDON & LEEDS
Rockin' Purim Parties in Jolly ol' England!


Met the real Potter crew at Chabad in Hendon! As she so noted and quoted!:
"Laz was spiffy brilliant!"

Chabad House in Leeds with the amazing Rabbi Cohen
in long hair & 60's attire to my right!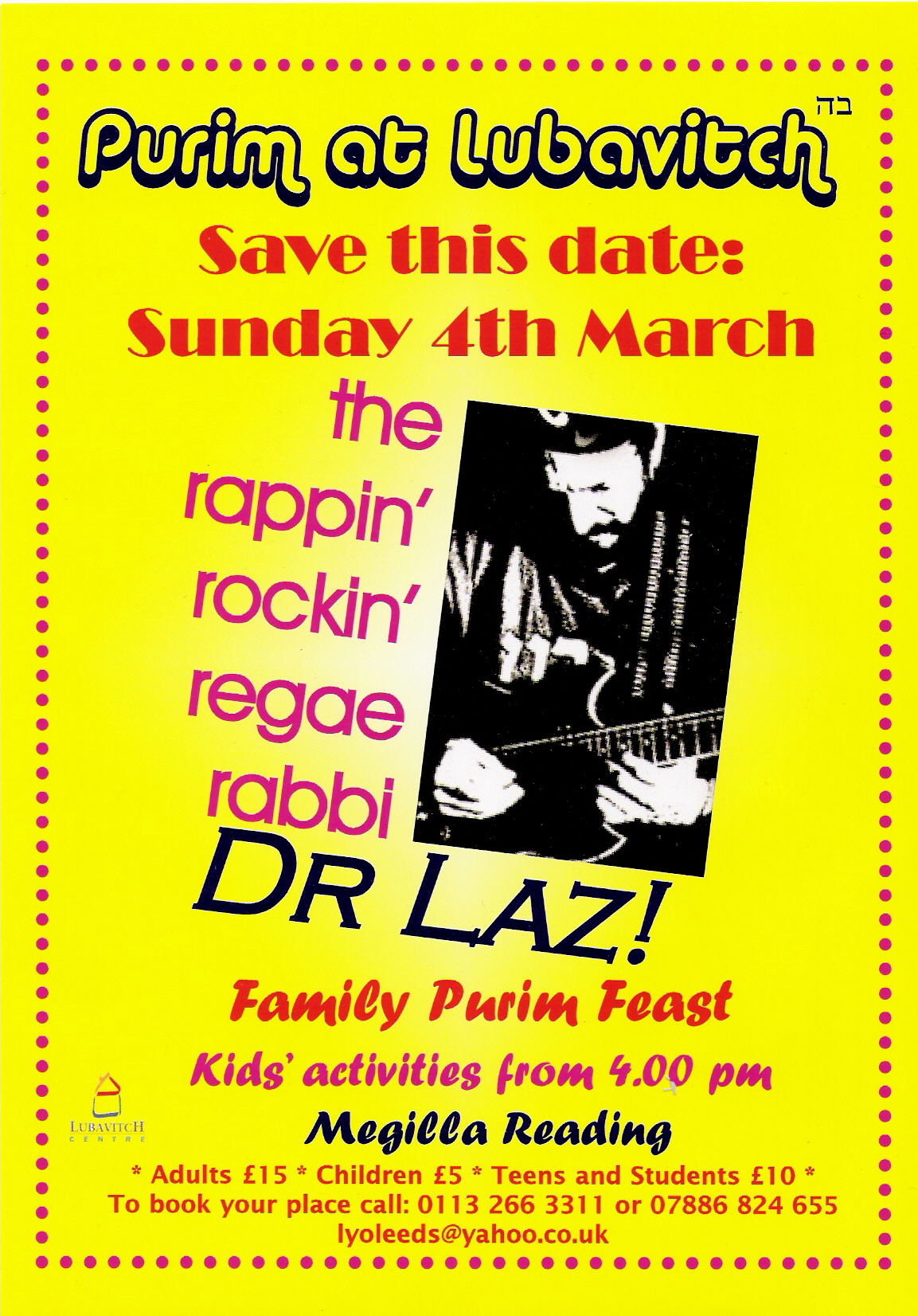 Flyer from LEEDS, England 2007

L'Chaims with the incredible Overlanders in Hendon.



Flying over beautiful Greenland (did someone say "green?")
from jolly ol' England back to USA!